Training
Turning partner feedback into action
Every year, our goal is to give our partners opportunities to provide feedback so that we can make sure that we're providing the best experience possible. The Red Hat Partner Training Portal Annual Survey, previously known as the Red Hat OPEN Annual Survey, provides an opportunity for us to make sure that we meet our partner's current needs and can scale to meet their future needs.
The survey collects information through a targeted selection of questions for partners to provide feedback and rate their training experiences, needs, and wants. These results are the basis for starting our initiatives in further refining and improving our offerings to optimize Red Hat partner experiences.
The 2021 annual survey recorded 1,352 complete responses, a significant increase of 68.2% compared to the 2020 results. From what our partners have shared with us in this survey, we've started a multitude of initiatives to make partner training and enablement the best possible experience for everyone.
Training and learning paths 
One of the key findings in the survey was that 77.1% of partners know where to find resources on training and enablement within Red Hat Partner Connect. This is a decline from previous years—in 2020, for example, 84% of partners said they understood the navigation and resource locations. 
Based on these findings, our teams are working to continue to improve our partner experience and recently announced new and improved user experience within the Partner Training Portal. Our teams worked to improve things such as:
Search and browsing features complete with custom filtering
Multi-select and collapsible menu options
Redesigned learning paths 
Redesigned course detail screens
New categories to emphasize product training options, including enhanced course tile images that indicate role and modality.
New launch information 
Image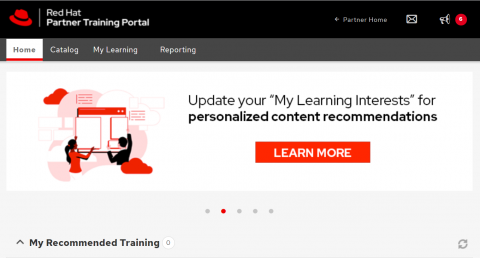 Partners indicated in the survey that they were most interested in knowing when new training, assessments, and enablement materials were launching within the partner training portal. Keeping this feedback in mind, our team wanted to make sure that partners had the option to opt in or opt out of additional email communications. We understand that everyone has different preferences in how they consume content, both professionally and personally. In order to provide an additional level of detail, our team created an email opt-in functionality to communicate training related updates, including new launches and updated learning paths. 
Partners can sign up for this via the Partner Training Portal at the top of the navigation bar. If at any point a partner wants to discontinue receiving updates this way, it can adjust those settings in the system. 
Joint Solutions 
One of the benefits we offer partners through the  Red Hat Partner Training Portal is access to Joint Solutions channels—channels containing resources on joint technology solutions with Red Hat alliance partners
We found in the survey that partners were most interested in learning more about Joint Solutions with Amazon Web Services (AWS).  In addition, we launched a new Joint Solutions Channel for AWS that is now available for partners to consume content. This channel provides Red Hat and AWS partners the enablement needed to position Red Hat products that drive additional AWS consumption and revenue.
Log in to Red Hat Partner Content Hub to learn more about the 2021 annual survey findings.