News
Introducing a new concierge program for partners
Red Hat® is dedicated to building business solutions together with partners like you in order to create meaningful relationships and achieve impactful business outcomes. In an effort to support your alignment with Red Hat messaging, while also enabling you to drive pipeline with co-branded demand generation campaigns, we have launched our partner concierge program with a designated Red Hat marketing agency!  
With this new program, Red Hat partners can choose from a wide selection of modular marketing resource guides designed to generate and accelerate pipeline opportunities more efficiently or have the option to create a customized, net new campaign. This preferred vendor will provide support to Red Hat partners including comprehensive campaign creation, vendor management, campaign reporting, creative services, and more. 
What are modular marketing resource guides? 
Modular marketing resource guides are a self-service resource that can be used to run multitouch, omnichannel demand generation campaigns with your own marketing team.
Each guide correlates to our partner sales plays and includes a high-level campaign message, personas, challenges and solutions, proof points, digital ad components, modular copy, suggested emails, content directories, and additional resources for sellers and marketers. 
The partner marketing resource guides currently available for concierge services are:
What if I want a custom campaign? 
Image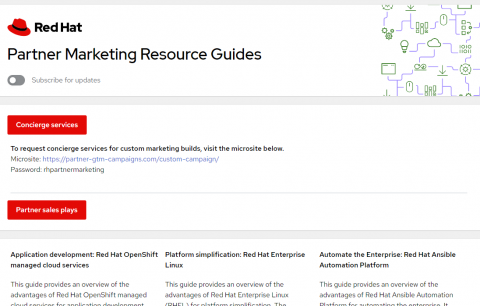 As a part of our concierge program, we have partnered with a preferred vendor designated to provide support and help you execute existing marketing campaigns or create a custom campaign. You can access the concierge services from our page on the Red Hat Content Center here. 
Once requested, you will be assigned a dedicated campaign manager who will serve as the single point of contact for all joint activities. Your campaign manager will coordinate onboarding and execution of all activities across our agency stakeholders, including:
A customized campaign developed to deliver against goals and needs 
End-to-end campaign production (strategy, design, content, development, etc.), execution, and management
Complete campaign reporting, lead-pass notifications and performance metrics
End-of-campaign report and analysis
What are the program benefits?
Allows you to better align with Red Hat's core messaging and solutions
More easily enables you to drive additional pipeline and co-branded demand generation programs for Red Hat
For more information, contact Lauren Erikson on the Global Ecosystem Marketing team with any questions. We're looking forward to growing the success of our partners.