Technology certification
Simplifying Red Hat Operator Certification
There are some important enhancements in Red Hat OpenShift Certification that you should be aware of. Specifically - a new simpler way to certify your applications managed by Red Hat OpenShift Operators.
And we invite you to become a beta tester for it.
Based on recent partner feedback, we will be releasing a new certification tool for Operator bundles that can be executed on any OpenShift cluster. You will be able to run your own functional tests and the Operator certification tests on the same environment, and get increased visibility into the tests being executed and the corresponding PASS/FAIL results. 
Taking advantage of Tekton, this tool is integrated with OpenShift Pipelines so you can track progress using the OpenShift console:
Image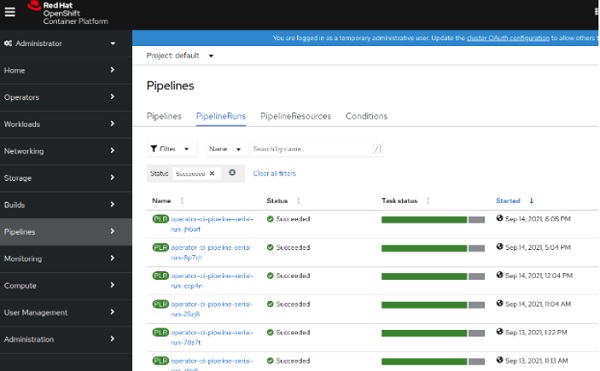 This new approach includes a CLI option to run the Operator bundle checks before submitting them to Red Hat (we call this a "preflight" check). And the submission of the Operator bundle for publication is handled via a Github pull request, using a pattern similar to other development workflows. Finally, you'll be able to create a support ticket directly from the tool.
For those partners who prefer to upload Operator bundles through the portal, that option will continue to be available. However, we anticipate that you'll find the new on-premise pipeline allows better integration with your CI process and full control over the test environment. 
How do I get ready?
We are planning general availability by the end of October. If you want to take this certification tool for a test drive before it's generally available, please sign up for our Beta phase by October 1st. Once you've submitted your contact information in the form, we will contact you with instructions on how to get started. 
Note that this release does not impact any of the Operators already certified, nor does it change the certification requirements already in place. But it will change the process to certify new Operator bundles. If you have an Operator bundle project in progress, you can continue working with the current workflow until the new tool is released. Once that happens, the process to test and submit your bundle will change. The steps to certify container images (including the image with the Operator logic) will remain the same.
This is a good time to check that your OpenShift environment is up to date, and make sure to check that your Operator is not using any deprecated APIs. If you have any questions, feel free to contact us via a case in our Success Desk.