Events
The Red Hat X Podcast: Creating Connections
Definition of podcast
a program (as of music or talk) made available in digital format for automatic download over the Internet 
Beginning life in 2004, podcasts entered the media scene as an obscure, but yet easily consumable entertainment method shared via the internet. Fast forward more than a decade and you have a wildly popular format for entertainment and information that's grown well beyond technical audiences … and not without a reason. Media content is now reachable no matter where you are and what you're doing, whether it's sitting at your desk, during your daily run or walk, and even while driving. Let's face it, many people won't read through an article page to page, but put it in an audio format and it's a different story. This is the idea behind a podcast and is part of what makes them so popular. The Red Hat X Podcast Series is no different. Created around the time podcasts solidified themselves as a mainstream source for information and entertainment, the RHX (for short) podcast accomplishes all of the above points while placed in the genre of technology. 
Take a look at our list of marketing  activities available to partners and you can see that our team covers the most reasonable virtual and physical areas of marketing reach. To meet this goal, the Red Hat X Podcast serves several different important functions:
It's promoted content for social media
Supporting educational material for product and partner pages
Multimedia and internet air-coverage, and any other use our partners feel necessary
Simpler and more cost effective than a webinar, podcasts can be quickly projected to hundreds or thousands of listeners. Although there are no contacts generated, the goal of the podcast is to provide an easily digestible asset that can be used across many platforms for a broad audience. 
The Backstory
After a year of no podcasts, and a growth in partner demand, it was decided that the 2019 KubeCon in San Diego would be the route to reignite the series. Leveraging the fact that many of our ecosystem partners were all within earshot, we were able to schedule eleven  podcasts to be recorded in one day. Eleven podcasts with 11 partners. Since then, there have been close to 100 or  more software partners involved covering many mainstream topics  bringing in close to 70,000 downloads. 
Image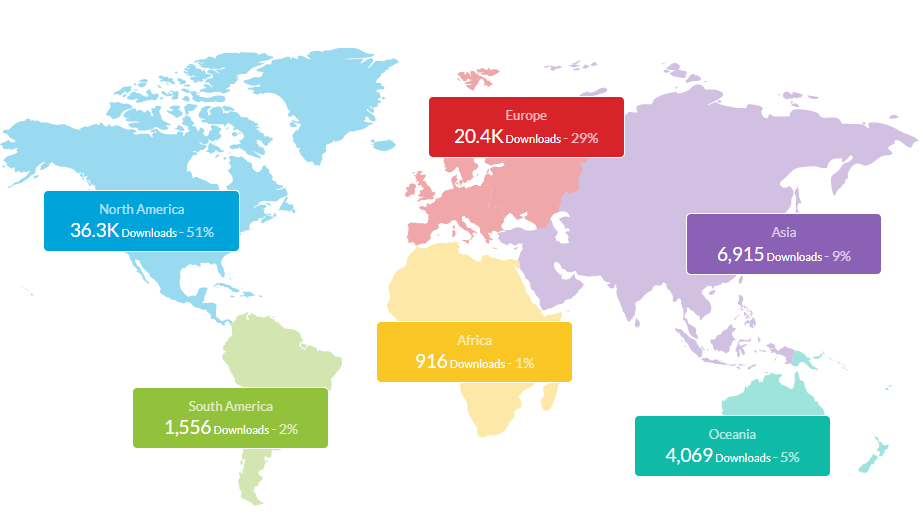 Above: Chart depicts podcast download percentages around the world.
Learning and interacting with partners is our main source of content and without their contributions it would be much more difficult to keep our topics and discussions relevant to the audience. Software partners provide topics relating to current events, whether it's about changes in industry around Kubernetes or even about how a global pandemic affects business in the technology environment. Ideally podcasts are aimed at being informative and interesting, and based on our statistics these episodes are most successful. Success is also determined based on the level of promotion that a partner provides for their podcast as well.  
How to listen 
You can access current  and previous episode  via the  Red Hat Catalog as well as learn about what is coming up down the road.  And as always, we will continue providing our audience with the latest and greatest news on the hybrid cloud, Kubernetes, the ecosystem of applications, and much much more.  If you have an interesting topic or story and want to be involved in the Red Hat X podcast series, please reach out to us at connect-marketing@redhat.com with a brief summary of your topic.