Technology certification
Red Hat Partner Connect: 5 New Features in 5 Minutes
The Red Hat Partner Connect Program has gone through several iterations over the years, and our online partner experience is changing too. Over the past few months our team has improved the user experience with some important updates.
1. New Design 
The Red Hat Partner Connect public website has been redesigned to be more accessible and user friendly. It is easier to search through the home page and find program benefits and support. Take advantage of the new headers which make it easy to navigate to main areas.  
Homepage Header:
Image

User Account Header Example:
Image

2. Certified Technology Portal - updated Project interface for OpenShift Zone
Have you seen the new interface now available for your projects? From your Project page you can click on: Go to new version. 
Image
In this updated interface, you can:
Add a Tag to an existing container image
Make a specific image be 'Latest'
Delete Images
Publish Images
Check the Health Index of Red Hat components
Example of New Project Interface:
Image

3. Getting Help 
Finding tools and resources is now accessible by clicking on Support in the page header. You can find frequently asked questions, instructions on how to open a support case and a contact us form. 
Example of Support Header:
Image

4. Documentation 
Our team has been working on creating more documentation around the workflow and certification process. Take a look at our updated documentation found here: https://redhat-connect.gitbook.io/certification-guides/
5. Site Status
If you cannot access these features or specific sites within our collection of connected partner sites, you can now check to see if the website is down by going to: status.redhat.com. The new status page helps keep you updated and informed of any outages or maintenance scheduled. You can also subscribe to get real time updates via email or phone.
Sample of status page:
Image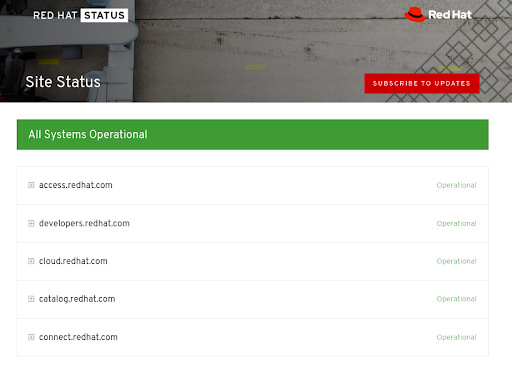 Thank you for partnering with Red Hat 
It has been exciting to see the program evolve over time. As new updates and features come out, the partner portal has been updated to be more efficient and allow more self-service options. We hope these new features will make the process easier for you and your team. We plan to keep you posted with other new features coming soon. Stay tuned!