Events
Red Hat Hackfest drives ecosystem collaboration and innovation
The Event
Twenty teams recently took part in the third Red Hat Hackfest, our partner community initiative that brings partners and customers together to develop innovative solutions to complex business challenges.
During the four-week virtual experience sponsored by Intel and IBM, partner teams from Europe, Middle East, and Africa collaborated to create innovative and measurable solutions to areal-world manufacturing challenge Proof of Concept (PoC), based on cloud-native Red Hat technologies. 
They had the opportunity to get hands-on with:
Edge technologies: RHEL for Edge and Quarkus
Data center technologies: Red Hat OpenShift, Red Hat A-MQ, Red Hat A-MQ Streams, and Red Hat Runtimes
Additional technologies: Cert-manager, InfluxDB, PostgreSQL, InfluxDB, Grafana, Tekton, and Helm Charts
Image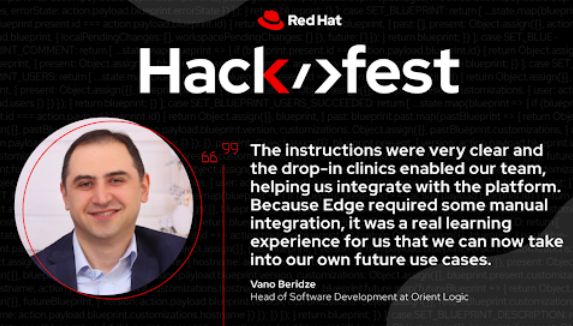 We're supporting our partners the entire way
Our subject matter experts ran weekly clinics, and for the week before the event started, we offered optional enablement sessions with more insights around both the business and the technical sides of Edge Computing and cloud-native technologies, which gave participants a leg-up going into Hackfest. 
And here's where it got competitive
At the end of the four-week program, teams presented their solutions to a panel of Red Hat Quarkus and IoT experts for evaluation around the following criteria:
Radical innovation
Level of Quarkification
Edge device management
Container technology
Red Hat integration
The winning teams were customer-centric
The Hackfest team noticed that the participants on the winning teams were:
Not focused primarily on products, instead, they knew what the customer needed and focused on that.
Proactive.
Building an outcome to a specific customer challenge.
Three teams emerged as the clear winners based on the PoC solutions they presented:
LSD snatched 1st place by demonstrating a broad skill set across the whole technology stack adopted by the Hackfest technical team and improved the content shared during the Hackfest event, adding value and functionalities to the existing PoC.
Read LSD's blog for a participant's perspective of Hackfest. They did a great job of breaking down the use case and what was expected of each team.
2nd place: Piros
Piros demonstrated a broad OPS skill set, as well as the ability to improve the content provided by the Hackfest technical team during the Hackfest event.
VIADA showcased their capacity to understand and execute the manufacturing challenge that was presented to participants, demonstrating the ability to roll out and manage a complex use-case scenario. They said their participation in Hackfest consolidated the knowledge they've acquired during the last few years. They are currently pitching our certified technology stack to several end customers.
The Red Hat Hackfest is about teaching and enabling 
More important than the prizes given to the three winning teams, participants came away with skills and experience they can apply to solve real-life business problems. Through Hackfest, the participants learned how they can meet customer demands with Red Hat's portfolio: by creating solutions, learning how to take them to market, and helping them win new opportunities in areas where they may have not considered using Red Hat before. 
"The Red Hat Hackfest is the engine Red Hat needs to help Partners develop their capabilities around Red Hat technologies and develop innovative solutions to customer challenges. Collaboration, certification, support, enablement, and business focus are developed during participation in the challenge, and in the long term, trusted relationships are built between subjects who want to work together to be able to anticipate and solve customer challenges"
Andrea Battaglia, EMEA Technical Partner Development Manager, Red Hat
A positive step towards delivering customer-centric solutions
The edge manufacturing PoC we trained the partners on has been used as a blueprint for two Spanish customers in the energy and utilities sector. One project has already started, and the other is about to get underway.
In the country of Georgia, one of the winners of the second Hackfest has already kicked off three projects using our technology: two digital transformation projects and one IoT project. It's projects like these that really showcase the impact, skills, and knowledge garnered from Hackfest.
The immersive, intense environment allows end-to-end solutions to be built in a short period of time, enabling Partners to fast-track complex prototypes. Real-world application and in-time interaction leverage our relationship with developers to create long-term revenue streams. 
Image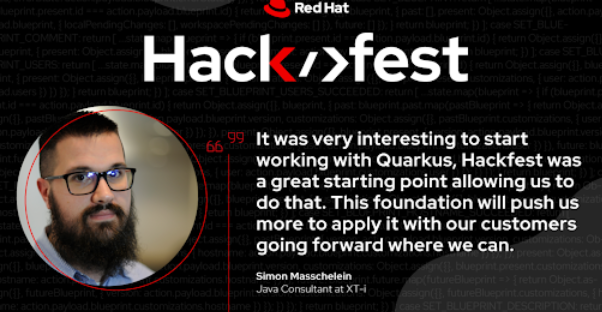 Merci! Danke schön! Gracias! Grazie! Thank you! 
We'd like to thank our sponsors, the participating teams, and everyone at Red Hat who helped make this Red Hat Hackfest another amazing success. 
Missed this event? Don't worry! We plan to continue holding Red Hat Hackfest events. Details will be posted here as a Partner Connect post as well as on the Hackfest page when they become available. We plan to evolve the program by working toward a time where several use cases and customer challenges based on market needs can be run at the same time globally.
If you would like to participate in the next Hackfest, reach out to Andrea Battaglia .