For many businesses, automation represents the future – what the ideal IT infrastructure should look and feel like. In a Red Hat sponsored study with Harvard Business Review, we found that 80% of IT leaders believe a unified company-wide automation approach is essential for success, suggesting there is a legitimate demand for solutions that cater to automation needs in a holistic way.
At the same time, integrating legacy infrastructure with modern processes like automation can be a challenge. It's worth keeping in mind the value that is gained overall, as well as what's made possible by a flourishing ecosystem of vendors and partners who work together to realise the potential of these solutions.
Automation enables businesses tools and resources to develop applications and explore new markets and growth opportunities. Organisations across the EMEA region and around the world are using automation to great effect, whether that be to optimise existing workflows or upgrade data gathering and analytics. 
Through Red Hat's Leading with Automation initiative, we are supporting our partners that go the extra mile with Red Hat Ansible Automation Platform, taking themselves and their customers into the future.
Automation at scale
Implementing a unified automation platform may not sound feasible because of the unique needs of each company and fears of continuity disruption, but there is strength in standardization, especially when the platform in question is supported by vendors that can support expansion and innovation. Red Hat Ansible Automation Platform is capable of introducing automated processes to all business IT divisions from Infrastructure to DevOps.
According to a 2021 study conducted by Red Hat and IDC on the business value of Red Hat Ansible Automation Platform, the projected average five-year return on investment (ROI) for surveyed participants was 667%, with a break-even point in their investment in the platform occurring after approximately 10 months. In addition, the report found participants experienced a 30% productivity increase in their IT infrastructure management as well as a 39% increase in the output of new applications.
In the face of this evidence and impact, Red Hat is showcasing the use cases of Ansible Automation Platform with the recently launched Leading with Automation initiative. Red Hat EMEA partners who participate in this initiative stand to benefit from their commitment to Red Hat Ansible Automation Platform in many ways. From helping to grow their margins and mitigate company-wide risks and redundancies, to improving service delivery speeds, and increasing customer satisfaction, Leading with Automation is here to assist, elevate, and reward our partners.
Swisscom automates large parts of its IT infrastructure with Red Hat Ansible Automation Platform. Observing a growing market demand for IT automation, the Swiss telecommunications and IT provider decided to invest in promoting the Ansible Automation Platform with a new strategic go-to-market approach to its own customers. "Red Hat Ansible Automation Platform offered alongside consulting services is the foundation of our next generation service portfolio. "Joining 'Leading with Automation' is the missing part of the puzzle to accelerate our customers´ digital transformation", says Georg Schlüter, Product Manager at Swisscom. 
Setting up partners for success
Image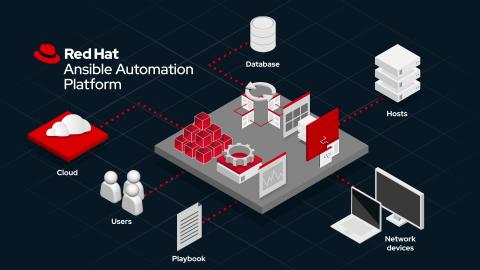 With many businesses looking to adopt automation at scale, Red Hat is helping enable our valued partners. Partnerships sit at the heart of our ability to help ourselves and others grow, taking a holistic approach to the work that goes into building comprehensive open source solutions.
Red Hat partners participating in Leading with Automation are establishing a new and exciting community, one that spans multiple industries and is defined by quality service and devotion to their customers. Partners who qualify for and become a part of the initiative stand to receive the following benefits:
Recognition as an Automation Platform Specialist with an official Red Hat badge;
Margin growth for new business (in addition to Red Hat Opportunity Reward Program benefits) focusing on Red Hat Ansible Automation Platform opportunities;
Access to selected content and tools to improve skill sets;
Exclusive access to dedicated Ansible activities and events throughout the year.
The power of collaboration and community
The world of open source is defined by collaboration and wide-ranging applications, something that's illustrated by the scalable nature of platforms such as Red Hat Ansible Automation Platform and how partners have embraced it.
Morten Fredsø, Account Executive at Red Hat partner Miracle, shares his view on how the platform plays a fundamental role in the business: "The value that Red Hat Ansible Automation Platform brings is clear, with both content creator and operation tools alongside business and analytics. As part of our long-term strategy for market expansion and customer retention, it's a key component for future growth in the automation segment."
Red Hat Ansible Automation Platform also demonstrates the power of community. By adopting an open approach to their technology, processes, and culture, Red Hat partners can take their sales and technical expertise to the next level.
SVA, another one of Red Hat's partners, uses Red Hat Ansible Automation Platform to help its customers better organise and optimise their workflows. "Automation is the starting point to quickly achieve standardisation in an environment," says Thomas Bludau, Head of Competence Center Infrastructure as Code. "When we introduce Ansible to our customers, we work with them to develop a complete concept that we have built based on successful customer projects. We also support the architecture level of the new or existing environment in setting up a staging concept and use it to work out a solution for operation on a DevOps basis."
If you have any questions or comments please reach out to Bill Morkan or your Red Hat Partner Account Manager.