What is the OpenShift Partner Lab (OPL)?
OPL is a collaborative environment to utilize during the final phases of the development process for short-term, one day to one month, reservations. 
Our lab provides a dedicated and customizable OpenShift cluster currently hosted on AWS as installer-provisioned infrastructure or as a managed Red Hat OpenShift Service on AWS (ROSA) cluster. 
Who can use the lab?
OPL is available to all Red Hat technology partners. However, the use of the lab is contingent upon business needs and timelines.
In order to obtain an OPL environment, the partner must have a Red Hat sponsor, or representative, who will request the lab environment internally on their behalf. This could be a partner account manager (PAM), a solution architect working with the partner, or another Red Hat account contact familiar with the partner and the project needs. This Red Hat sponsor will request the lab internally, the lab manager will review and approve the request as appropriate or request further information. 
Once the reservation is approved, cluster details will be sent to the primary partner contacts utilizing the environment.
Primary lab use cases
Final development, testing and certification of containers, operators or Helm charts
Proof of concepts
Customer demos, when Red Hat Product Demo System is not available or appropriate
Joint solution co-creation
Product integration and testing
Each use case scenario should be a short-term project of one month or less. The lab is not designed for long-term work. In the case of a lengthy project, we will assist the partner to utilize Partner Subscriptions or developer subscriptions for their work or leverage OpenShift Local.
*If you render the cluster inoperable or disable it where it is inaccessible in any way RedHat will not perform any disaster recovery or backup. We will provide you with a new cluster.
Note: This is not a comprehensive list. Other use cases will be reviewed on a case-by-case basis. 
Prerequisites
Registered Red Hat Technology Partner
Red Hat sponsor (this can be any Red Hat associate) to request lab on your behalf
Operational knowledge of OpenShift/Kubernetes
Operational experience with containers, operators and/or Helm charts as appropriate
Value of the lab
The OpenShift Partner Lab is completely free to partners. 
You can choose between multiple OpenShift versions and instance sizes that suit your development needs.
Allows you to innovate and reach your goals faster.
Image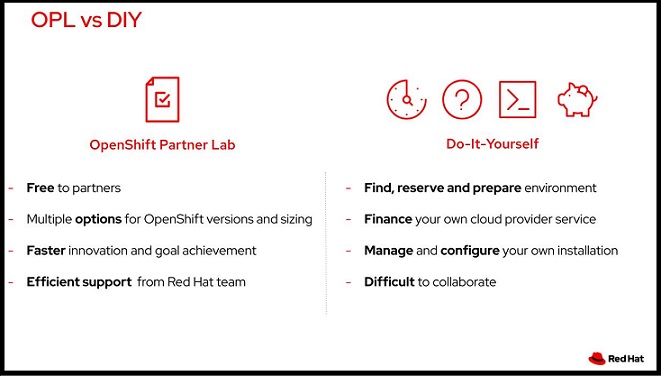 The do-it-yourself route of installing and configuring your own OpenShift cluster means you must find, reserve, and prepare your entire environment. Or, if you utilize the cloud, you must finance your own cloud services. Management and configuration of your OpenShift installation must be done on your own, independently. This route can make it more difficult to collaborate and receive timely support in your development process.
These labs are short term, and we will encourage and assist you in setting up a long-term development cluster environment. However, for short-term projects or other time-sensitive needs, leveraging the lab is a great and efficient benefit of our partner program. 
Configuration options
Getting Started
Your Red Hat representative must contact partner-lab@redhat.com to ask questions or request a lab environment on your behalf.
If you do not have a Red Hat sponsor, or if you have questions, reach out to partner-lab@redhat.com directly.
FAQ
How will I get technical support?
The lab does not include technical support. You should be leveraging your support resources via your supported OpenShift subscriptions. However, debugging and assisting on the cluster will be easier/faster since it is on Red Hat infrastructure.  You may discuss options for support with your Red Hat lab sponsor and/or the lab manager.
How long can I reserve the lab for? 
You may choose from one day, one week, two weeks or one month.
Can you accommodate multiple time zones?
Yes, our lab accommodates all time zones.
Can I change my cluster configuration in the middle of my lab reservation?
No, the cluster configuration will be set in the initial cluster setup. Please try to plan ahead when choosing your cluster configuration.
For any further questions or comments please reach out to partner-lab@redhat.com