Training
Take off with Red Hat Partner training
Time is a valuable resource. When wasted, it can be frustrating, especially when it comes to searching for information you need. With the Red Hat Partner Launch Pad, we want to help you make the most of your time.
The Red Hat Partner Launch Pad is an initiative designed to ignite your enablement journey and guide you through the training, assets and product information Red Hat has to offer. It can help you navigate the plethora of information Red Hat provides—based on your specific role and level of expertise—so you, and your customers, can be confident that you are up to date on Red Hat technology.
What is Red Hat Partner Launch Pad?
Image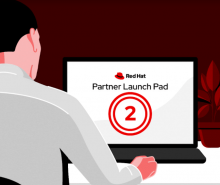 The Partner Launch Pad journey begins on the Red Hat Partner Training Portal, where on-demand sessions with Red Hat subject matter experts are scheduled to be added quarterly for you to watch anytime, anywhere. 
Each session will focus on a new theme to get you up to speed on the hottest topics in the market. The persona-based sessions highlight key information—such as a new product release or update, focused around a specific topic relevant to the way you work with Red Hat.
Next, you will be guided to a correlated set of expertly curated, role-based resources designed to help you take action with this new information. There are a variety of options for various experience levels. Resources include:
Supplemental training courses and accreditations (certification where applicable). 

Resources directly from the product teams including customer presentations, data sheets, and checklists.

Demand generation campaigns.

Demos and workshops.
This combination of role-based content, real-world use cases, and a library of curated resources has been designed with you in mind. Let us guide you on your enablement journey so you can make the most of your time with Red Hat and confidently bring knowledge of Red Hat's products and solutions to your customers. 
Learn more about the benefits of the Red Hat Partner Launch Pad